Key points to remember about snoring or noisy breathing
it's not normal for children to snore
snoring or noisy breathing may mean your child has obstructive sleep apnoea
obstructive sleep apnoea is a narrowing of the airways at the back of the nose and in the throat during sleep
this narrowing causes a child to have difficulty breathing and pauses in their breathing
snoring can have long-term effects on sleep quality, behaviour and learning
enlarged tonsils and adenoids are an important cause of obstructive sleep apnoea, and an operation to remove them can resolve the problem
overweight and obese children are at greater risk
What is obstructive sleep apnoea?
When someone falls asleep, the muscles of the throat relax and the airways at the back of the nose and in the throat become narrow. This can cause snoring or noisy breathing.
Although noisy breathing during sleep is common in children, it may be a sign that the child is having difficulty breathing. In young children, the tonsils and adenoids may grow to be quite large, and this can contribute to narrowing of the airway during sleep. The photo below shows enlarged tonsils in a child with obstructive sleep apnoea.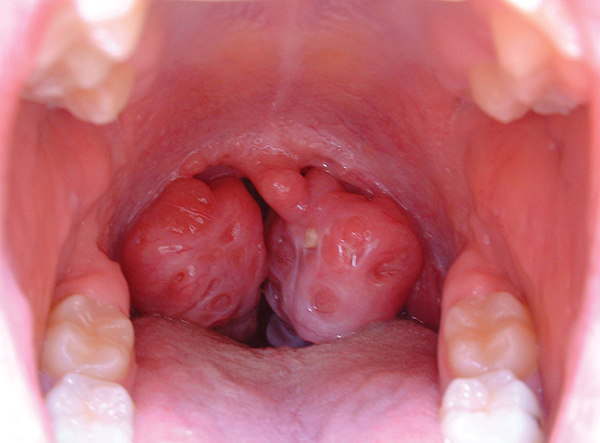 Obstructive sleep apnoea is a condition where narrowing of the airways at the back of the nose and in the throat during sleep is enough to cause a child to have difficulty breathing or pauses in their breathing. The child will then wake up briefly because they cannot breathe properly, often with a loud gasp or snort. These episodes can happen many times through the night and the disturbed sleep can result in changes in behaviour during the day such as sleepiness, hyperactive behaviour, impulsivity, poor attention and difficulty learning at school.
How can I tell if my child might have obstructive sleep apnoea?
Snoring or noisy breathing is common in children but may also be the first sign of obstructive sleep apnoea.
Other signs of possible sleep apnoea in a child that snores include:
being overweight or obese as these children are at greater risk than other children
restlessness during sleep (moving around the bed a lot)
short pauses in breathing - although the chest is moving, no air is moving through the nose and mouth
mouth breathing when asleep or awake - the passage to the nose may be completely blocked
daytime sleepiness or irritability (because the quality of sleep is poor)
hyperactivity during the day
This is a video of a child with severe obstructive sleep apnoea. You can see his chest sucking in with each breath. The noises you can hear are because his airway is partly blocked. 
What should I do if I think my child might have obstructive sleep apnoea?
If you are worried that your child may have obstructive sleep apnoea, take them to your family doctor. Your doctor will examine your child and will refer them to an ear, nose and throat surgeon if their tonsils and adenoids are thought to be causing the problem, or to a paediatrician for further investigations. The doctor will want to know all about your child's sleep patterns and will examine the airway by looking into their mouth. A paediatrician may refer your child for a polysomnography or sleep study.
Read more about polysomnography [1]
How is obstructive sleep apnoea treated?
The treatment for obstructive sleep apnoea depends on what is causing it. The most common treatment is removing the adenoids and tonsils to open up the airway. 
Read more about tonsillectomy and adenotonsillectomy [2]
If surgery is not appropriate for your child or if your child still has obstructive sleep apnoea after the adenoids and tonsils are removed, then your doctor may suggest treatment with a special mask that your child wears while asleep. This treatment is called CPAP (continuous positive airway pressure).
Read more about CPAP (continuous positive airway pressure) [3]