What do I do if my child tests positive for COVID-19? 
Reporting positive (and negative) results 
If your child tests positive or negative for COVID-19, you need to report the result. You can do this online through My Covid Record [1] or by calling the COVID-19 helpline on 0800 222 478 (choose option 3). 
Read more about COVID-19 tests on the Ministry of Health website. [2].  [3]
Check symptoms of COVID-19 [4]
Find out more about rapid antigen tests (RATS) [5]
Further testing
If your child is the first positive case in the household, you will get information about what to do next when you report their result.  
Household contacts of a positive case need to get a test on day 3 and day 7 of the isolation period, or if they are feeling unwell.
Check Unite Against COVID-19's testing guidance and advice on how to use a RAT [6].
Tell contacts of positive case
Tell contacts your child has tested positive for COVID-19. Tell anyone your child had contact with in the 2 days before developing symptoms.  
Self-isolating with children  
When anyone in your household tests positive, the whole household must self-isolate at home (or in suitable accommodation) for at least 7 days. 
There are some key things to know about self-isolation. 
Stay home
You must stay home the whole time you are self-isolating. Do not let people visit you in your home.  
Check the Unite Against COVID-19 website for more information about self-isolation [7].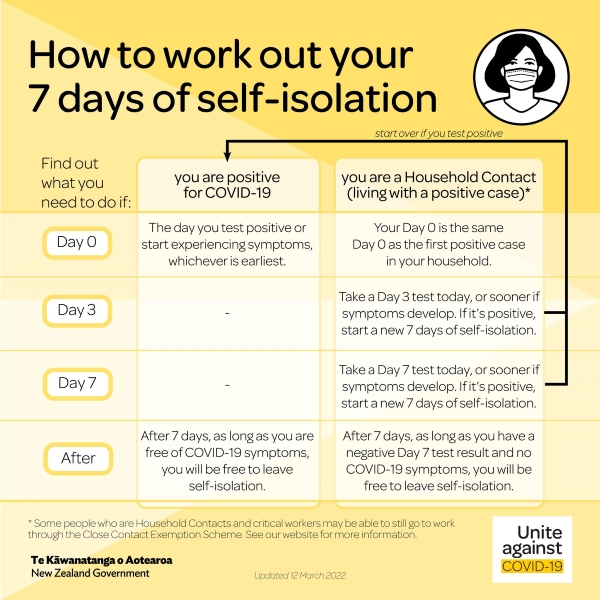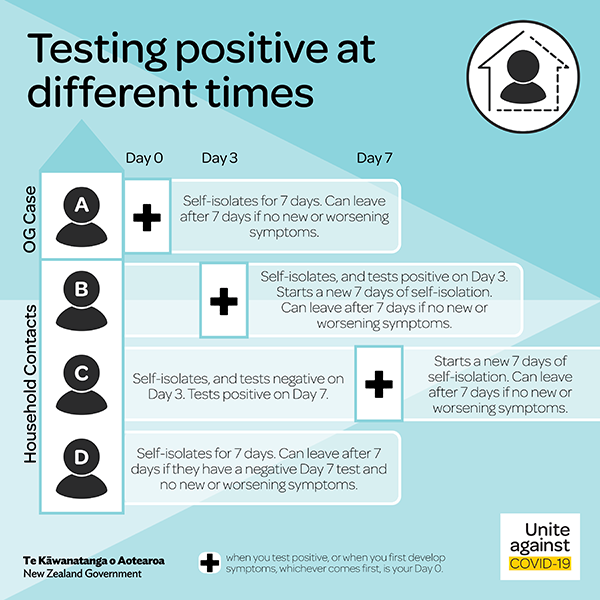 Avoid contact with others
Positive cases and household contacts should avoid contact with others in the house as much as possible.
If you can, have tamariki stay with a caregiver in a separate part of the house away from others, and use a separate bathroom if you have one.
sleep in separate rooms if possible
do your own laundry if possible 
if your child cannot stay away from others, try to stay 1.5 metres apart from each other  
spend as little time as possible with other people in your home  
Wear masks and open windows
Wear masks while in the same room as others and open the windows. Masks and ventilation are important in reducing COVID-19 from spreading.  
Find out more about why wearing masks and creating airflow help reduce the risk   [8]
Practice good hygiene 
Wash hands often and wipe down surfaces, including door handles, light switches and phones with disinfectant.
Getting essential supplies
Ask family and friends to help drop off food and medicines. They can leave these outside your house for you to collect once they have left. Or you can get supplies delivered instead.  
Contact the COVID-19 welfare support line on 0800 512 337 if you need help with kai or welfare support. 
Find out more about preparing for positive cases in your home   [9]
Monitor symptoms 
Most children will have mild to moderate symptoms and family and whānau can care for them at home. If you, your child or someone you know becomes more unwell contact your GP or Healthline, or call 111 (in New Zealand) if it's an emergency. 
Find out more about caring for a child with COVID-19 [4]
Exercising
When isolating, you can leave your home to exercise without wearing a mask. You can exercise outdoors, but stay away from others and don't go to a shared exercise facility, such as a swimming pool.  
Reasons you're allowed to leave your home 
You and your child can leave your home if you wear a face mask at all times for one of the allowed reasons. These include having a medical appointment or testing, using an essential health service or visiting a dying relative who is not expected to live beyond your period of self-isolation.
Find out more about reasons you can leave your home, and for advice on isolating [10].
When you can leave self-isolation
You can leave isolation 7 days after the first person in your home tested positive for COVID-19. But, if another person in your household tests positive, they must remain in isolation for 7 days from their day 0 - the day they first developed symptoms or tested positive.
If a positive case still has symptoms after 7 days, they should stay at home until 24 hours after symptoms have cleared.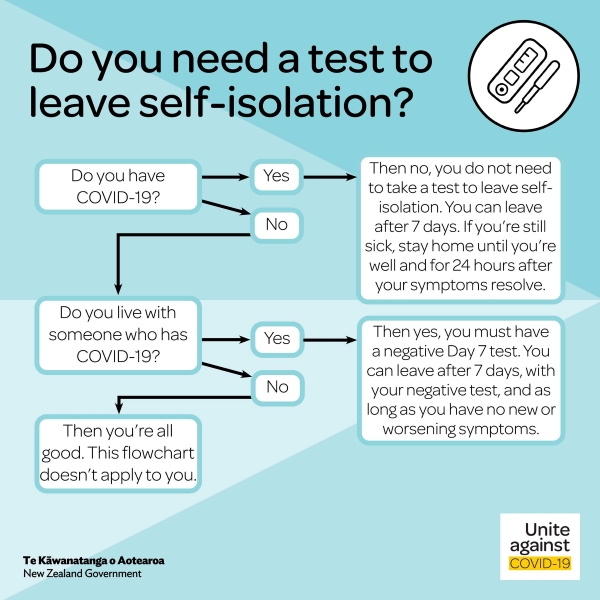 What to do if another household member tests positive  
You or your child may have to isolate again if someone else in your house tests positive for COVID-19 after you've finished your isolation period.  
If it's been less than 10 days since your last isolation ended, you do not need to self-isolate. But if it has been more than 10 days you will - you'll also need to get tested on days 3 and 7.  
If you don't need to isolate, you should still be careful about where you go, who you see, and monitor for symptoms.  
Someone who has had COVID-19 already does not need to isolate for 3 months after they recovered if they are a household contact, but they will have to isolate again if they test positive.  
Find out more about testing and isolation on the government's COVID-19 website.   [11]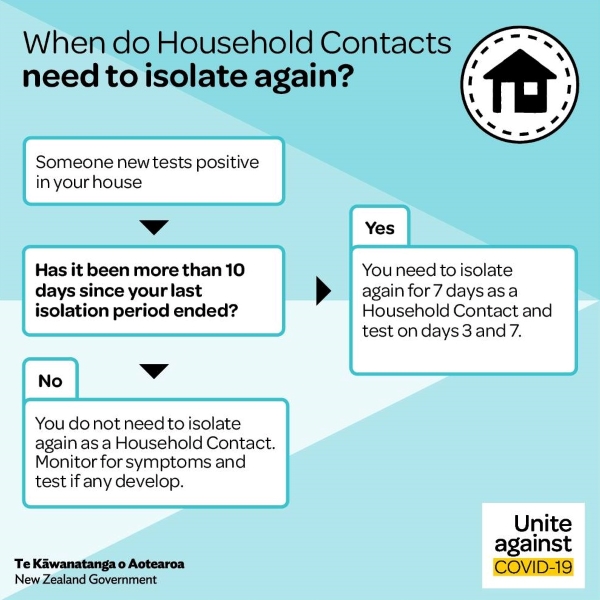 What to do if your child tests positive after isolation
If you had to isolate because you were a household contact, you cannot be re-classified as a household contact for 10 days after the isolation period ends. You and your child only need to begin isolation again during the 10 days if you test positive. 
The usual rules apply 10 days after the original isolation period ends. If a new household member (not the original case) tests positive, they and all other household contacts (who have not yet become cases themselves) must isolate for 7 days.
What to do after COVID-19
There are some important things to do after you or your child have had COVID-19 and finished your isolation period.
Cleaning
when your child or someone in your house has recovered from COVID-19, clean surfaces with a detergent then disinfectant

wear gloves while cleaning and open windows

wash all dishes you and your whānau used while isolating
Throw away rubbish
throw out all rubbish, including used tissues and masks
put the rubbish in a separate bag, tie it up and put it in the general household rubbish bag or bin
Washing
Have the vaccine
Your child can still have the COVID-19 vaccine if they have had COVID. The timing of vaccine doses will be slightly different. This is because infection with COVID-19 reduces the risk of getting COVID-19 again.
Check the advice about timing of doses (in the section 'Can my child still have the COVID-19 vaccine if they have had COVID?') on the following KidsHealth pages.
Check the advice about COVID-19 immunisation for 5 to 11 year olds [12]
Check the advice about COVID-19 immunisation in children aged 12 and over [13]
Keep up healthy habits
Read more about what to do after your child has had COVID-19 [14].
See the Minstry of Health website for general cleaning and disinfection advice during the COVID-19 pandemic [15].
More KidsHealth content on COVID-19
Find out about caring for a child with COVID-19 [4]
See KidsHealth's section on COVID-19 [16]
See all KidsHealth's content on COVID-19 immunisation in children [17]