---
Gabapentin For Preventing Seizures
The following leaflet for parents and carers is about the use of gabapentin for preventing seizures. Seizures may also be called convulsions or fits.
Please note, leaflets at the New Formulary for Children website are only available to users in New Zealand and its territories.
Click on the image below to read the leaflet (PDF, 464KB) at the website of the New Zealand Formulary for Children.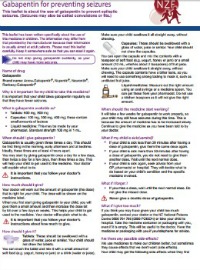 [1]
The leaflet above is an adaption of 'Medicines for children: Information for parents and carers', from www.medicinesforchildren.org.uk [2]. The adaptation is by the New Zealand Formulary for Children
---
Source URL: https://kidshealth.org.nz/gabapentin-preventing-seizures?language=mi
Links
[1] https://www.nzfchildren.org.nz/nzf/resource/MFC/NZFC_Gabapentin_for_preventing_seizures.pdf
[2] http://www.medicinesforchildren.org.uk
[3] https://kidshealth.org.nz/contact?from=http%3A%2F%2Fkidshealth.org.nz%2Fprint%2F2137%3Flanguage%3Dmi