---
Who Delivers The Well Child Tamariki Ora Programme?
Different health professionals will see you and your child at different times. Click on the image below to see a list of which health professionals you and your child will see at each visit. You can also see this on page 9 of your copy of 'My health book'.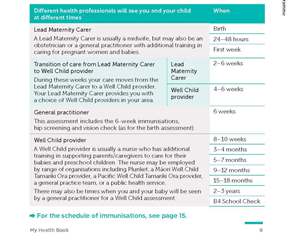 [1]
Check the Ministry of Health website for a listing of Well Child Tamariki Ora providers [2].
---
Source URL: https://kidshealth.org.nz/who-delivers-well-child-tamariki-ora-programme
Links
[1] https://kidshealth.org.nz/sites/kidshealth/files/pdfs/Page%209%20My%20health%20book.pdf
[2] https://www.health.govt.nz/your-health/pregnancy-and-kids/services-and-support-you-and-your-child/well-child-tamariki-ora-visits/find-well-child-tamariki-ora-provider
[3] https://kidshealth.org.nz/contact?from=http%3A%2F%2Fkidshealth.org.nz%2Fprint%2F1983