More Detail About Young People's Rights In Healthcare
More Detail About Young People's Rights In Healthcare
Young people can find out about their rights in healthcare in more detail. Be in the know.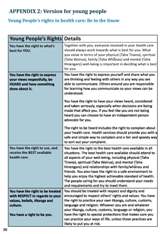 Source: Children's Hospitals Australasia and Paediatric Society of New Zealand. Charter of tamariki/children's and rangatahi/young people's rights in healthcare services in Aotearoa New Zealand: A consensus statement by Children's Hospitals Australasia (CHA) and the Paediatric Society of New Zealand. Appendix 2. 
This page last reviewed 21 May 2019.

Do you have any feedback for KidsHealth?
If you have any feedback about the KidsHealth website, or have a suggestion for new content, please get in touch with us.
Email us now
On this page
Print this page