General Advice About Antibiotics
General Advice About Antibiotics
General advice for parents and carers about antibiotics.
The following leaflet for parents and carers provides general advice about antibiotics.
Please note, leaflets at the New Formulary for Children website are only available to users in New Zealand and its territories.
Click on the image below to read the leaflet (PDF, 315KB) at the website of the New Zealand Formulary for Children.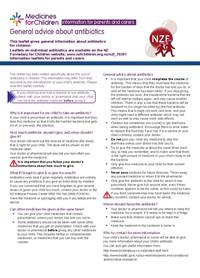 The leaflet above is an adaption of 'Medicines for children: Information for parents and carers' from www.medicinesforchildren.org.uk. The adaptation is by the New Zealand Formulary for Children.
This page last reviewed 20 December 2018.

Do you have any feedback for KidsHealth?
If you have any feedback about the KidsHealth website, or have a suggestion for new content, please get in touch with us.
Email us now
Print this page